Styling up with Boulder Opal jewellery has recently become a fashion trend in the various Pacific and Western countries as it gives a magnificent aesthetic and chic effect to its wearers. We usually have that piece of gemstone jewellery that we love that we wanted to incorporate more often into our outfits.
Boulder opals are found only in the state of Queensland, Australia where its major opal fields are locally situated in Quilpie and Winton. Learn the magnificence of boulder opal jewellery and how to dress & style it up with your outfit on every occasion.
The Magnificence of Boulder Opal Jewellery: Understanding the Gemstone
As the second most valuable type of Australian Opal, Boulder Opals are easily distinguished by their layer of solid brown ironstone left on the back of the stone. The gemstone used to create your boulder opal jewellery are mined from large ironstone boulders under the ground.
Notably, thin veins of colourful opal form in cracks and fissures in these boulders. Because these veins of colour are so thin, opal cutters need to leave the ironstone on the back of the opal to form a full-sized stone.
Thus, the thin layer of opal in boulder opals can display any colour of the spectrum in a beautiful play of colour. Although the ironstone layer providing the backing to boulder opals may appear similar to doublets upon first inspection, the formation is completely natural, and you can usually tell this by the layer of colour bar vs ironstone not being a completely straight line.
What are the usual colours of Boulder Opal jewellery gemstones?
The answer is ANY colour. Australian Boulders can be blue, green, yellow, red, orange, purple and of course, a combination of all these colours. It has the ability to suck all the colours from the rainbow and display them in all their variations.
Due to the dark backing provided by the ironstone, boulder opals generally have a dark body tone which leads to a vibrancy of colour similar to that found in black opals. Sometimes the ironstone is visible on the surface of the stone, which leads to a spotted or motley appearance, and thus sometimes reduces the value of the stone.
What is the best cut, size, and surface of boulder opal jewellery?
A 'clean faced' boulder opal, in which a whole bar of colour is visible on the surface of the stone, is much more desirable and valuable than a surface displaying ironstone spots. The thinness of the bar of colour in boulder opals means that a high cabochon surface is extremely rare.
Boulder opals usually have a flat surface or an undulating surface. Also, they are almost always cut in a freeform shape to maximise the size of the stone.
How come some Boulder opals with creamy or lighter coloured sandstone backs are still called boulders?
Sometimes there is a strip of dark ironstone directly under the foreground colour that gives the stone a really dark background. But then under that strip of dark material, there is a strip of lighter-coloured sandstone. This doesn't matter because the important part is that the background of the colour is still black if the colour is sitting directly in the dark area.
How do you know good quality Boulder opal jewellery?
The main thing is to allow your eye to perceive what is brighter and more dramatic. The blacker the background, and the brighter and more stunning the foreground is the best indicator of good boulder opal.
Why do Boulder Opals from Australia have such a good reputation?
Because Australia, being a very old dry continent, has opals that have dried out over a very long period and are less prone to cracking or crazing. There are some very beautiful stones from Ethiopia, the USA and South America, to name a few the countries but generally they are only appropriate for specimen purposes, not to be set in jewellery. This is because they tend to be porous (absorb liquid e.g water, and will change appearance).
Are all Australian Boulder Opals free from the problems of cracking or crazing?
No. Boulder Opals can still crack, either in the cutting process, or if they are damaged due to impact. Boulder Opals are the strongest of the Australian Opals, but this doesn't mean you should treat them with any less care.
Boulder Opals still rate a 6.5/10 on the Mohs scale (glass rates at a 6).
Is there any particular shape that is preferable in Boulder opal?
Boulder Opals have never succumbed to the tradition of only cutting ovals or rounds. Most boulder opals are cut as free forms.
Styling Up with a Boulder Opal Jewellery: Best Fashion Tips to Follow
For most fashion gurus, it doesn't matter how you would define your style with a nice piece of jewellery. Elevating your outfit using boulder opal jewellery is one of the most versatile additions you can make.
You'll be surprised that it certainly adds a certain savoir-faire. So, let's see how different ways these beautiful pieces from Opals Down Under can boost your fashion and styling ideas.
Wear Classics to Glam Your Daily Look
It may be a beautiful necklace or simple body chain; a more classic piece of gemstone jewellery adds some extra personality to any outfit. It's like your signature piece that makes anything you wear 'very you.' It should be a piece that is understated to make sure it goes with anything, but that doesn't mean you have to be boring.
Pick a bold colour if it's what you like for your today's outfit. This wishbone Boulder Opal pendat makes a good signature piece or if you want to bring more attention to your neckline. Layering a gemstone necklace with a body chain can also be a great compliment to your wardrobe.
Wear a sleeveless dress and glam up your look with a ring. The strips of glittering blues and greens in this Boulder Opal are set into Sterling Silver. You can stack it with other metal pieces on your hands to mix it up if you are tired of wearing it on its own.
Dress up a plain outfit with bold and chunky gemstone jewellery
A great way to add a "Wow effect" to an outfit is to add a big piece of statement jewellery. Boulder opal jewellery is perfect because it offers you bold colours and fun designs while remaining classy and elegant. You can dress up a plain white tee and your favourite pair of jeans with a solid opal pendant on a necklace with its matching body chains.
Women love the wispy patterns and blue/green hues in this modern contemporary Boulder Opal pendant. Surprisingly, it's a classic but fun look. Wear this necklace to your favourite little black dress for a night out. Also, this necklace brightens up any office outfit.
It's not just about elevating your outfit. Grey clouds make you feel blue? No problem! Wearing a piece of bold jewellery can be the key to boosting your mood. This simple claw-set Sterling Silver ring suits your outfit that highlights its Blue/Green rectangular Boulder Opal set on it.
A Delicate Piece to Add Sophistication and Elegance
We have been talking a lot about bright-coloured, bold pieces. But here at Opals Down Under, your gemstones don't always have to be the protagonist.
Sometimes a touch of colour in the right places can refine your look and add effortless sophistication and elegance to your outfit. Remember, the jewellery doesn't have to overpower the rest.
These funky triangular Boulder Opal earrings let you show off your creative side. The natural properties and composition of mined gemstones define the unique beauty of each piece that you wear. This classic and versatile boulder opal earring pair is ready for anything the day brings from your office to night-out wear.
These lovely small multi-colour flashes found on the surface of the Boulder Opal are amazingly blended with the darker brown ironstone. Set in Sterling Silver, adding this necklace to your everyday work uniform can be enough to take your look to the next level. For many women, wearing a gemstone bracelet can add a subtle pop of colour and a simple body chain make any outfit more formal.
Add a bit of sparkle
Like something thats more bling than simple? Diamonds can be a fantastic of way of spicing up your Boulder Opal jewellery.
Modern pieces like this Vibrant Boulder Opal Pendant can add the finishing touch to any outfit. Most wearers regard it as super cute and super blingy. To represent its prime, the gemstone is surrounded by diamonds and in Yellow Gold metal.
Make colour the theme of your getup
Do you know anything about colour psychology? It's widely used in marketing and branding. So, let's use some colour for your outfit branding, shall we? I'm sure there is plenty of more information you can find about the meaning of different colours in books or online, but to give you the basics.
Colour can make a big statement in your style and fashion in general. So, your jewellery from Opals Down Under's premium selection can help you make the most of it.
For example, the colour blue is one of the most appealing colours. Many find it to be a calming, soothing colour while red is associated with power. Green symbolizes growth, vitality, and a fresh start, when you find yourself lagging.
A combination of blue, red, and green boulder opal jewellery can put a new spring in your step. Or let's say you're getting ready for an important business pitch. Wear this Solid Boulder Opal Ring for an extra boost of confidence. Its fantastic deep reds, greens and blues in this Boulder Opal Ring are set into 14k Rose Gold with a diamond accent.
The stunning display of blue & green colours in this modern and sleek Yellow Gold pendant shows off a better display. The diamond setting shows off its intimate elegance while staying chic and trendy. Most women who wear this find their mood uplifted while showing off a positive vibe to their workmates, colleagues, family, and special someone.
Gemstones stand out, even more, when you combine them with pearls
There is no jewellery classier than pearls. Most jewellery aficionados say that they are a staple in many jewellery boxes and pairing them with gemstone jewellery can create a great look, because they complement each other so well.
Pearls give gemstones a little air and bright coloured gemstones make pearls look less conservative. No matter how you decide to combine the two, both gemstones and pearls should be essential in your jewellery box. It might be an unconventional pairing at first, but they complement each other beautifully.
This intense blue and purple around Boulder Opals perfectly matches with pearls if you decide to wear them on any outfit. With a pearl-inspired dress or bag, a stand-out pair of drop earrings in Sterling Silver completes the total look. Currently, Opals Down Under offers this piece with a one-time great price or four interest-free payments using Afterpay.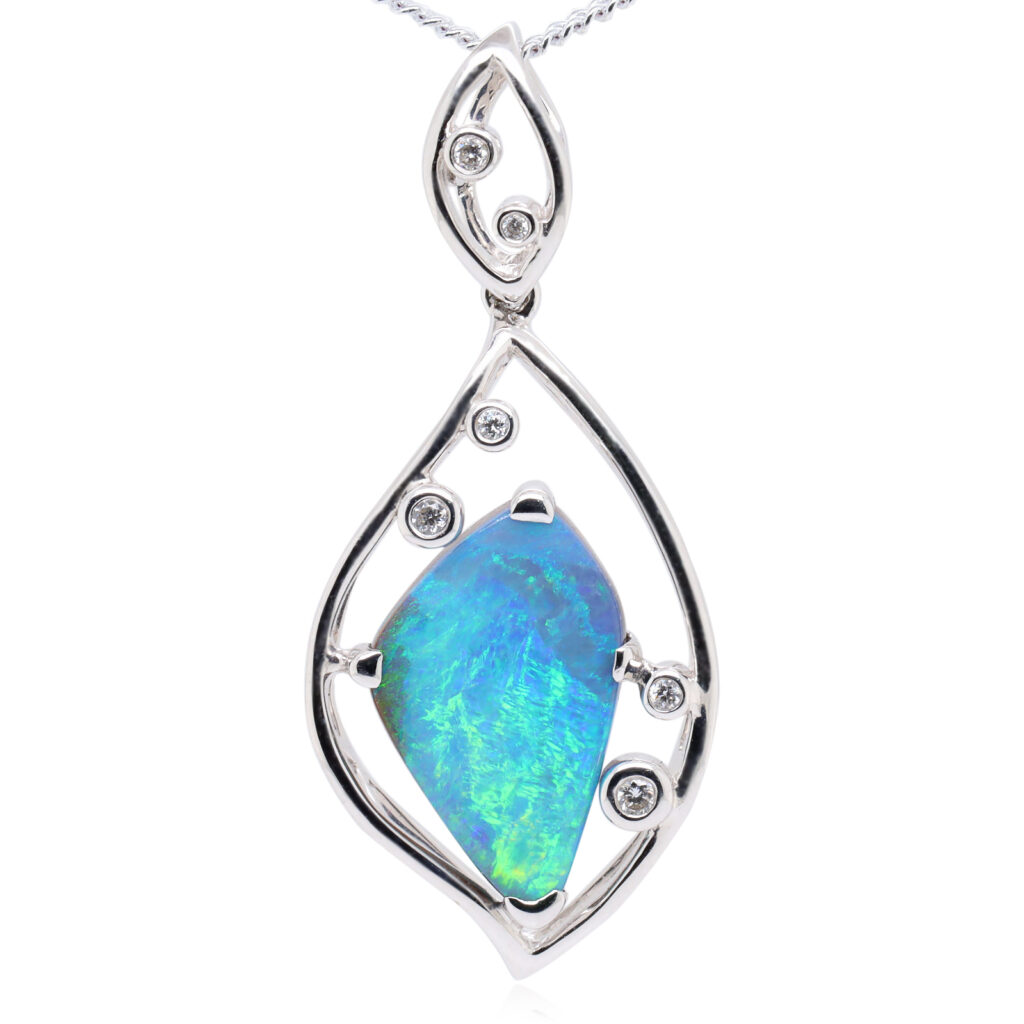 This boulder opal jewellery has a stunning design with a generously-sized feature stone where it shows off stunning blues, greens, and aqua. If you think necklaces are the way to go for more daring styles, you might like this with an open back shirt or dress with a lighter shade.
Make your Look more Fabulous with Boulder Opal Jewellery.
Interesting jewellery like boulder opal jewellery can be a great ice breaker to your get-up in any social situation. Just pick a piece that has personality for days you know you'll be running into a lot of people.
Fun shapes, chunky pieces, bright colours, unconventional ways to wear your jewellery, you name it, sure is you will stand out from the crowd. A more modest outfit can make a bold piece of jewellery the eye-catcher you need for a little boost of confidence and compliments from onlookers.
If you take anything away from this post it should be making gemstone jewellery part of your wardrobe. It can instantly elevate any outfit. If you're looking for the perfect piece of gemstone jewellery for you, visit the wide range of selections from Opals Down Under today.