Opals Down Under is a Sunshine Coast-based business, established in 1985. For over three decades, Opals Down Under has cut, supplied and valued amazing Australian Opals from the different fields. Opal Artisan and Director Scott Coggan, one of Australia's leading opal experts, and his team pride themselves on providing quality service and opal knowledge.
Our online opal catalogue is updated frequently and gives you the opportunity to buy opal knowing it has been cut by one of Australia's leading opal experts.
We started out mining & cutting opals professionally, and have been selling Australian opals on the internet since 2003. We have an excellent reputation in the opal industry and an extremely good customer satisfaction record. We offer a money back guarantee on all our internet purchases, however, our clients rarely send opals back as our photographs represent the opals fairly and accurately. With a wealth of experience, expert skill, and opal knowledge, you can count on us.
Our business is based on integrity and honesty. We set extremely high standards for ourselves in the areas of customer service, integrity, and professional workmanship.
Visit us
There is lots to see and do at Opals Down Under. If you'd like to find out more about visiting us, please see our visit Opals Down Under page.
Opals Down Under is open 7 days a week, 9am to 5pm, Monday to Saturday, 9am to 4.30pm Sundays. (excluding Christmas day, Good Friday, Easter Sunday, June 30th for our annual stocktake, and open after 1pm on ANZAC Day).
You can find us at 11 Ballantyne Court Glenview QLD 4553 AUSTRALIA
The Scratch Patch Gem Fossicking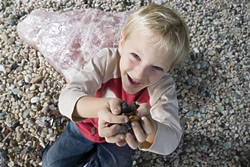 Have fun fossicking for semi precious gemstones in our 'Scratch Patch' gem fossicking areas. It's great fun for kids and adults alike! Open every day, 9am to 4.30pm (Monday to Saturday), 9am to 4pm (Sundays). Fossick through thousands of different gemstones, where you can spend hours finding your very own collection. Excellent family activity from as little as $10. For more information.

Official memberships
Awards
"Retail Business of the Year (9 Employees & Under)" in the 2009 Caloundra City Business Awards
"Retail Business of the Year (9 Employees & Under)" in the 2008 Caloundra City Business Awards
"Tourism Business of the Year" and "Outstanding Contribution to Caloundra" in the 2007 Caloundra City Business Awards.
"Highly Commended" in the category of jewellery design in the 2006 Queensland Export Awards.
Our Story
A young adventurous Austrian emigrated to Australia in 1961 at the age of 21. Young Immo Stein was a blacksmith by trade, the son of a Salzburg silversmith and seamstress. However he left his family and his beautiful home country to seek fortune and adventure in the remote and mysterious great southern land. After working for a while in the Snowy Mountains Scheme, Immo travelled extensively throughout Australia.
In 1962, his adventurous spirit took him to Andamooka, South Australia, where he started mining opal and became totally fascinated by this beautiful gemstone. Immo grew to love the simple and hard-working lifestyle of the Australian opal fields, however he never did find the millions of dollars he was after.
In 1963, Immo started cutting opal, and he continued mining for about ten years. During this time he also mastered the skill of opal cutting.
In 1969, he married Louise Davies, a waitress and they moved to Coober Pedy. They had two children, Danielle and Heidi, and lived in an underground 'dugout' for about five years. After moving to Adelaide for a year, they travelled around Australia in a 31 foot caravan, cutting opals from a mobile workshop and supplying opals to gem dealers and jewellery stores. It was during this time that their son Adrian was born.
In 1980 they moved to Queensland and set up their first opal shop on acreage north of Gympie. The businesswas run from their Queenslander home, with Immo cutting the stones and Louise serving customers. The business grew rapidly with enormous interest from overseas visitors in their opal cutting and workshop display.
In 1985, they took a gamble and built Opals Down Under, on Queensland's Sunshine Coast. Immo and Louise dedicated themselves to raising their family whilst also running a successful business. Immo began studying gemmology and, in 1987, became a qualified gemmologist. The business began to draw tourists from around the world, and Louise continued to enjoy serving customers and raising her young children. Immo continued to perfect his skills in opal cutting whilst still travelling to Australia's opal fields regularly to buy Australian opal in the rough for cutting.
In 2017, Scott Coggan (who had managed the business for fifteen years), took ownership of Opals Down Under, with the Steins heading into, and enjoying, retirement.
Since then, Opals Down Under has gone from strength to strength, while still maintaining the work ethic and integrity of a small family business.
Our staff members are all highly trained, friendly professionals who enjoy working with Australia's most amazing gemstone. Owner/Opal Artisan Scott Coggan is an Australian opal cutting specialist with over three decades' experience, and is considered one of the finest opal cutters in Australia.
Find out more about the Opals Down Under attraction on the Sunshine Coast.