Testimonials
"I couldn't be happier with the purchase everything was amazing from the piece to the delivery time wouldn't complain about anything."
Michael K.
"I have purchased quite a few Koroit opals from Opals Down Under. I have been buying quite a lot of opals lately but I usually find Opals Down Under have the best opal for the most reasonable price, And their shipping is outstanding. I get everything within 8 days. And they always look just as beautiful as they did in the pictures. Undoubtedly I will be buying more them."
Nathaniel D.M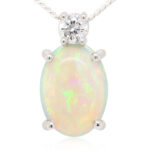 "I would like to tell you about my positive experience with both the customer service aspect and the quality of the piece(s).
First of all, Rhys Fox, Manager/Internet & Advertising Coordinator, was the most patient, professional individual.  Rhys
is obviously highly educated about opals, custom settings and all things ODU.
I was not an easy customer to deal with.  I didn't read my communications from Rhys clearly, I was apprehensive about
spending money on unseen pieces and worried about the quality.  Rhys clearly knows how to reassure customers and
provide a feeling of security and quality of pieces.
I am over the moon with my custom opal pendant and also the pendant(s) I purchased for my daughter.  The pieces I have
purchased from ODU will be handed down (hopefully) for generations.  My custom piece especially – I have wanted something like this for so many years and the research I did in the past turned up less than desirable stones and cost.
ODU far surpassed my expectations with both customer service and quality.
I am so grateful that Rhys did not throw in the towel with me and stuck by me until the end.
Thank you for your time in reading this email.  Rhys is a total asset to ODU and I am going to be doing more business with ODU because I now NEED some opal earrings on a shepherd's hook.  I will be a customer forever and will be pleased to recommend your business to friends and family without hesitation."
Katherine. P
"Excellent product always love buying opal especially the mad colours that catches your eye. I buy my misses earrings each birthday or special occasion and the jewellery is made perfect and would love to buy more down the track, fast delivery, keep up the excellent work."
Andrew. K
"The order arrived in good order yesterday, and both items look fantastic. As per usual, your website photos are realistic and honest representations. I always love looking at your great online showroom, and very much appreciate your exceptional customer service, as always. Happy Holidays to you and yours! I'll be back :)".
S. Schultz
"Just a brief note to thank you and your colleague for your help with my purchase of the boulder opal pendant (2020****). My wife was very surprised with her gift and absolutely loves it.
I appreciate your support in the selection, purchase, and delivery that you provided. It was an easy interaction and transaction. My thanks again."
M. Sirchis
"Wonderful wear for my lovely wife. Opals are her birthstone. (or one of them). Your service has been recommended to friends."
Ross B. Bills
The opal pendant and necklace just arrived. It's gorgeous, thank you.  Opals are my birth stone and it was a little 50th present to myself.  I was a little nervous buying online but I'm very pleased. Just as I saw in the photos online. Thank you.
Kim W.
"I received my order Friday 14th I love it It is bigger than I expected and has lovely colours I have been wanting one of these opals for some time and I am glad I chose opals down under."
Sybil T.