Looking for things to do on the Sunshine Coast? Opals Down Under is one of the Sunshine Coast's premier tourist attractions, situated near the gorgeous coastal towns of Caloundra, Maroochydore, Mooloolaba and Noosa. You'll see one of the finest selections of opals anywhere in Australia, but there are also lots of fun and educational activities for the whole family to enjoy.
11 Ballantyne Court Glenview QLD 4553 Australia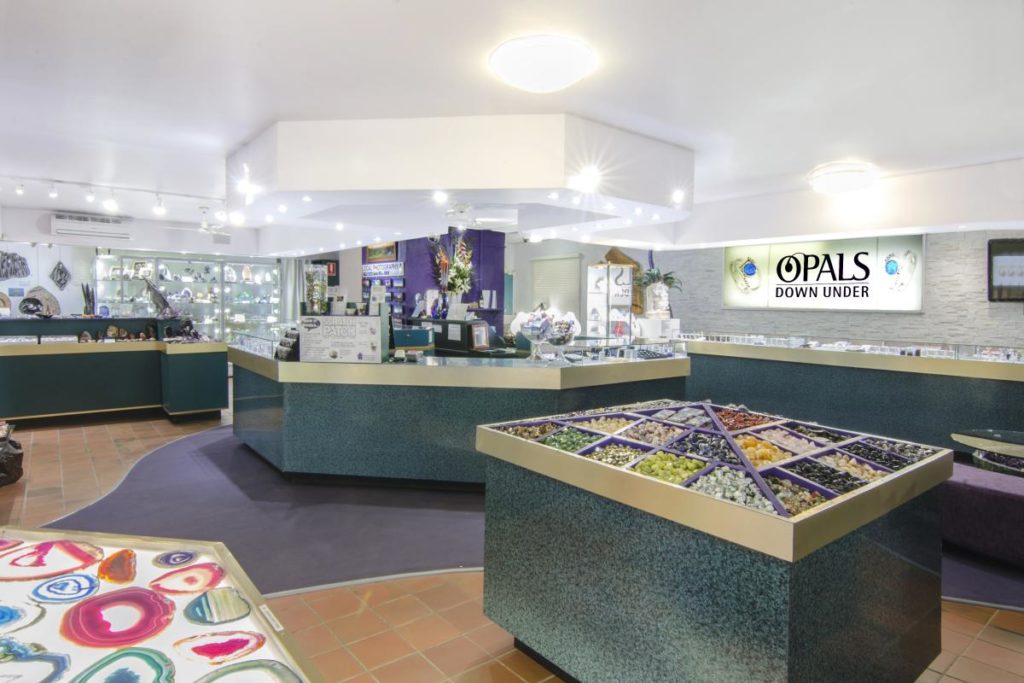 Hunt for gemstones in our 'Scratch Patch' fossicking area, or simply take the time to learn about the world's most fascinating and beautiful gemstone, opal. There's so much to discover!
Opals Down Under is open 7 days a week, 9am to 5pm (9am to 4.30pm Sundays) (excluding Christmas day, New Years Day, Good Friday, Easter Sunday, open after 1pm on ANZAC Day, and on June 30th for Stocktake).
Features and activities
A vast range of Australian opals and opal jewellery.
Gem Fossicking Birthday Parties
Large selection of Crystals in our crystal room.
Learn all about 'Australia's national gemstone' from one of our friendly staff members.
Take Another Look
Situated on the Bruce Highway on the beautiful Sunshine Coast, Opals Down Under has one of the finest selections of Australian opals you'll see anywhere in the world. This magnificent display of opals will have your jaw-dropping, your eyes sparkling, and give you opal fever in no time! Australian Opals are fresh, exciting, and fashionable – this amazing gemstone really is a timeless living rainbow right before your eyes. Opals Down Under specialise in all types of Australian opal, including white opal, crystal opal, boulder opal, and the world-famous black opal.
With over 45 years of experience in professional opal mining, cutting, wholesale and retail, we are experts in Australian opal. You can rest assured in the knowledge that you are dealing with highly reputable Australian opal specialists. We offer excellent value to our customers by purchasing rough Australian opal directly from opal miners and cutting it on the premises.
At Opals Down Under, you may get the chance to watch opals go from 'Outback to Outstanding' as they are cut in person by our professional opal cutter. Watch as opals are transformed from rough rocks into beautiful gemstones in our opal cutting workshop.
Relax in our spacious, air-conditioned showroom as you browse through a large selection of loose Australian opals and opal jewellery to suit any budget. Opals make the perfect Australian gift, or maybe Take home a beautiful piece as unique as you are of Australia!
Crystal Room
Searching for that perfect Christmas or birthday gift? Or just something to treat yourself? Opals Down Under offers one of the widest ranges of crystals on the Sunshine Coast. With competitive prices and astonishing quality, why buy crystals anywhere else?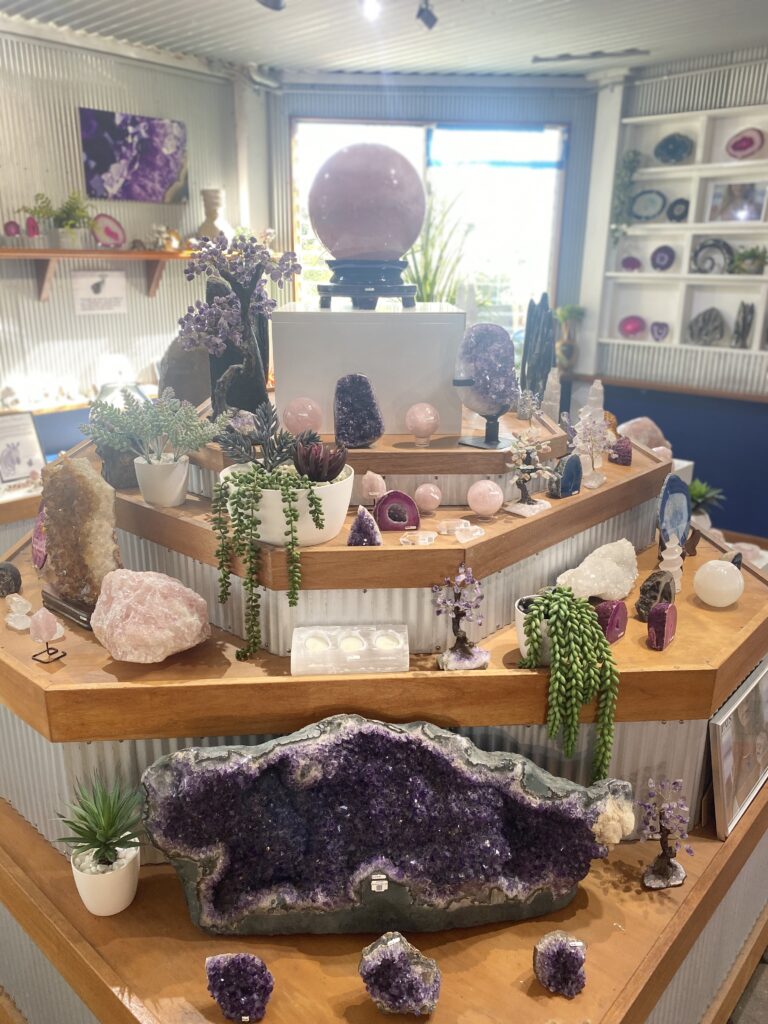 Scratch Patch Gem Fossicking
You can also have fun fossicking for gemstones in our 'Scratch Patch' gem fossicking areas. It's great fun for kids and adults alike! Fossick through thousands of different gemstones, where you can spend hours finding your very own collection, which of course includes Australian opals. Excellent family activity from as little as $10.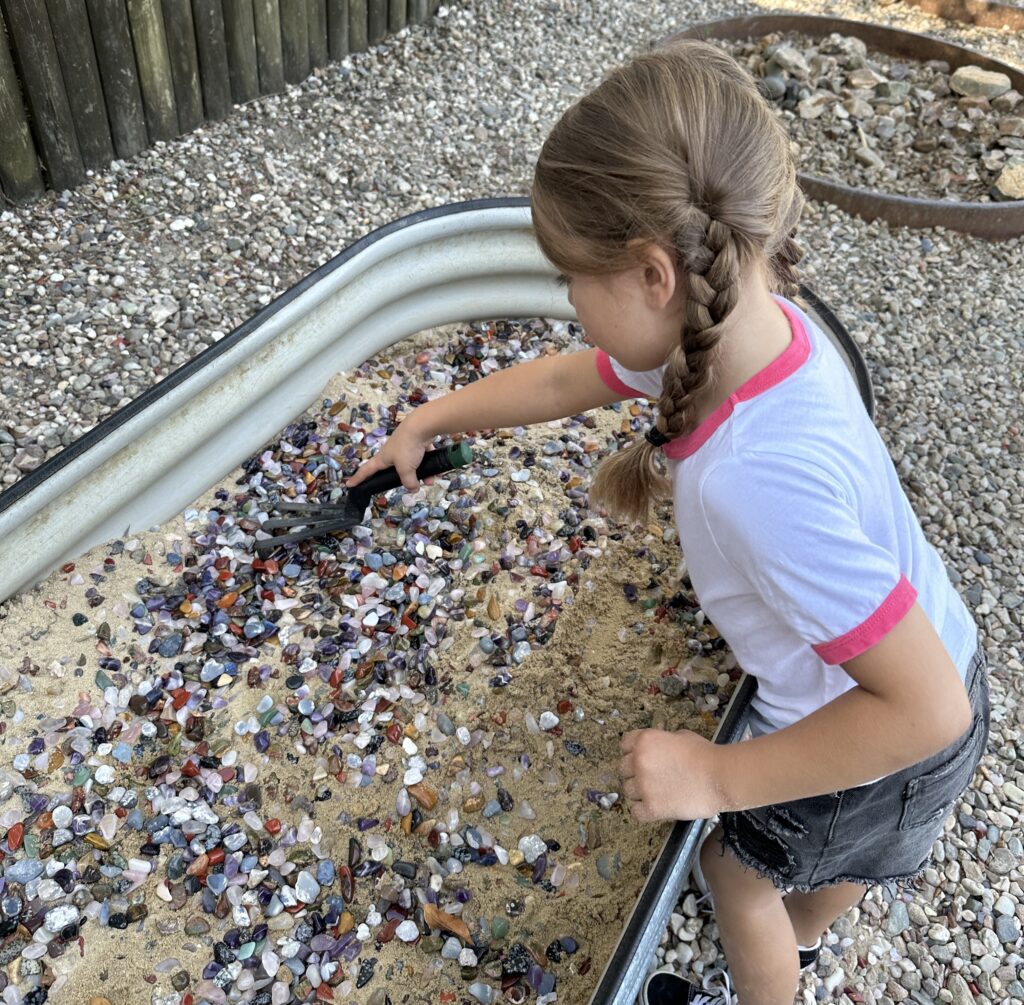 Here are just a few of the different types of gemstones which can be found in the fossicking area;
Boulder Opal
Malachite
Agate
Tiger Iron
Rose Quartz
Tiger Eye
Hematite
Petrified Wood
Amethyst
Chrysoprase
Jasper
Download our Rock Chart (in PDF). These are given out with every visit to the Scratch Patch. Or use our Digital 'What Rock is That?' chart here.
Anyone can purchase a gem fossicking container (Small – $10, Large – $18) and collect as many gemstones as they can fit in their container, which they get to keep. You'll have heaps of fun and learn about gemstones at the same time – there is no time limit. Parents, grab a hot cup of freshly ground coffee, cappuccino or tea from our self-serve coffee centre, while the kids fossick.
There is also a special 'Find the Gold Nugget' competition with a special prize for whoever finds the elusive nugget in either one of our Scratch Patches. Are you feeling lucky?
The Scratch Patch is open 7 Days. Two area's are partially covered (so is fine for drizzly days), while the other two areas are out in the open.  The Scratch Patch opens at 9am everyday, and we close the pits at 4.30pm (4pm on Sundays).
Birthday Parties at Opals Down Under
*Please note, we have now returned to taking bookings for birthday parties due to the ease of COVID Restrictions.
Looking for something different to do for your child's next birthday party? Opals Down Under has you covered!
With four Scratch Patch area's to fossick around in, a wide open grass area that you can picnic on, and a designated area for tables and chairs, we have plenty of space to search for gemstones, run around and play some games!
Hosting a party here is easy- it's free entry; just pay for the cost of your tubs (small $10 each and large $18 each). You have precedence over the general public for the use of the tables and chairs (only if you have booked!). Parties can be held from 9am-5pm, 7 days a week; there's no time limit for how long you're allowed to stay for, most parties usually stay for around 2-3 hours.
Unfortunately we do not cater for food, although we do have a small drinks fridge, and a coffee and tea machine. Bringing a portable BBQ has always been a favourite among parents hosting a party, you can also store your cake in our fridge. If you wish to bring extra activities you are more than welcome, we've had piñatas, face painting even jumping castles set up outside for the little ones to enjoy. The area is covered with a shade sail but is not weather proof. A marquee may be required on rainy days.
We ask if you could please book at least 1-2 weeks in advance, with number of children, date, time and your contact details. Happy fossicking!
How to find us
We are situated on the Bruce Highway at Glenview on the Sunshine Coast, Queensland, Australia. Our address is 11 Ballantyne Court, Glenview QLD 4553. If you'd like to print your own map, you can find us on Google Maps.
Finding us is easy – just look for the Glenview-Palmview exit (Exit #190 southbound and Exit #188 northbound) on the Bruce Highway and follow the signs.
If you are travelling North (from Brisbane), take Exit #188 at the Caloundra interchange, take the right exit, then right again for Frizzo Connection Rd. Take the Glenview Rd exit on the left, then into Ballantyne Court.
If you miss exit #188 you can instead take exit #194 towards Mooloolaba, and instead take the left slip lane towards Glenview & loop back around to us using Frizzo Connection Rd.

If you are travelling South (towards Brisbane), exit left when you see Aussie World and follow the signs to Opals Down Under.
We are situated approximately twenty kilometres North of Steve Irwin's Australia Zoo, and two kilometres South of Aussie World (the Ettamogah Pub).