Looking for the perfect setting to suit your perfect opal? Our expert award-winning jewellers specialise in crafting quality opal settings. Our customized Australian opal jewellery is modern, elegant and designed around your needs. All you need is a little bit of imagination and the right expertise to make the magic happen.
Whether it's a special gift, an engagement ring, an unusual stone, or a setting for the opal you've fallen in love with, we've got the experience and flair to make something great. If you've got an idea for a custom made opal ring, pendant, earrings (anything, really) then let us know – we'll do our best to make your dream become a reality.
Please don't hesitate to contact us for personal assistance and guidance in having your Australian opal custom set.
Hints and Tips
Opal setting samples
Green and blue stones look best in a silver or white gold setting
Orange and red stones look best in yellow gold settings
Diamonds can be a great way to accentuate the natural colour of Australian opal
When looking at opal engagement rings, boulder opals are more robust and therefore more suitable
Rub over (bezel) settings are the most secure form of setting, offering added protection to the opal
Claw tips in claw settings tend to wear down over time, especially in rings
Speak to us about the best orientation for the stone, as many opals look best in particular orientations (i.e which way up the stone is facing)
Remember to tell us your ring size when asking for a quote. Need some help with Ring Size conversions? This chart will help.
Here are just a few examples of our work making custom Australian opal jewellery. Whether it is Black Opal, Boulder Opal, Crystal Opal, or White/Milky Opal, we can create amazing pieces of wearable art for you or your loved one. At Opals Down Under, we help you in the process, from choosing the right opal for you, to the design process and final setting. We can custom make outstanding Opal Pendants, Opal Rings, and more for you to suit both men and women (we often recommend men's settings be custom made).
We can create different settings depending on your taste, from Classic/Traditional, to Modern/Contemporary, and all those in between. To help guide you, we've provided some examples of different styles/tastes below.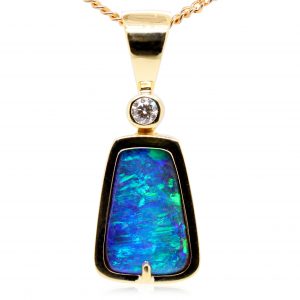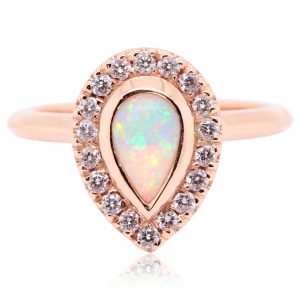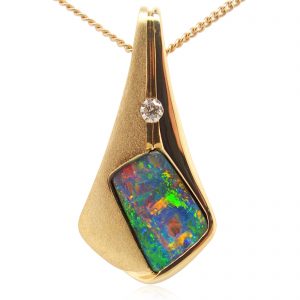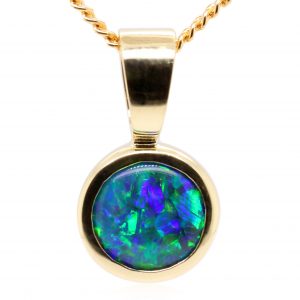 Please do note – Custom settings can take between 4 to 5 weeks (up to 7 weeks in busy periods) to complete, pending on the design required. The stone is to be paid in full before we have one of our jewellers commence work on the setting. The estimated time period for setting begins on approval of the design.
The following images are supplied as samples only, these items are not for sale. Please visit our opal catalogue to view our currently available opals, or drop us a line if you have any questions. Please click on the large images for a full display.