Gem fossicking is an Australian native term for amateur prospecting and mining done for fun by nonprofessionals. Any material can be used as a target, but precious metals and minerals are the most common.
This blog discusses seven gem fossicking facts that you should know before signing up. Also, you'll learn how fossicking started, its purpose, and how to do it successfully.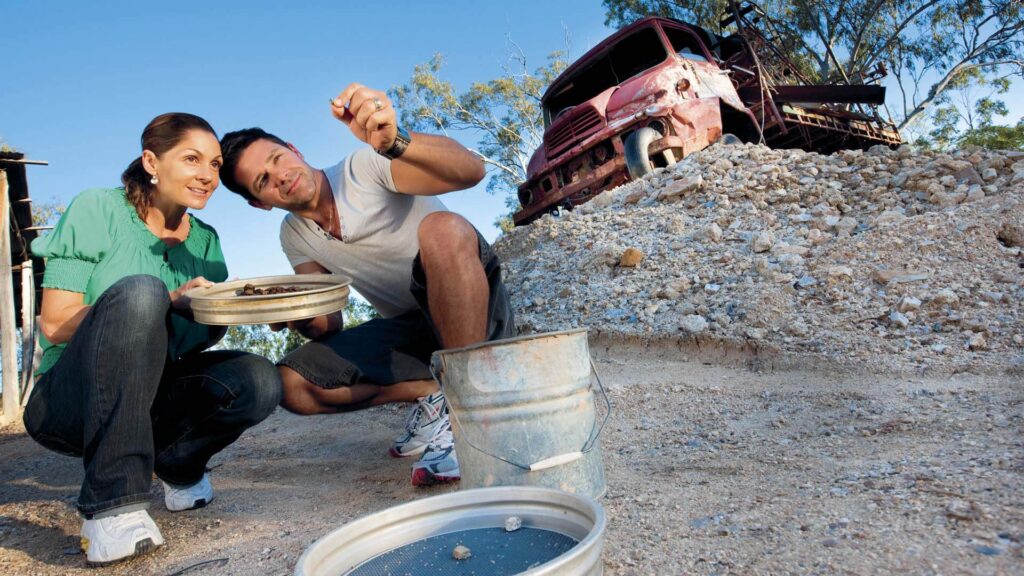 1. The Origin of Gem Fossicking
This gem-hunting activity began in the early 1850s in New South Wales and Victoria, during the Australian gold rush. Etymologically speaking, fossicking is a phrase that originated in the Cornish language and is now extensively used throughout Australia, New Zealand, and other adjacent islands.
There was little difference between fossicking and mining in the early days when big mechanized mining was not as prevalent and living circumstances were not as excellent. Many people were released from labour-intensive jobs as a result of the arrival of modern technology, and their new jobs provided more discretionary income.
It became conceivable to travel for pleasure. Fossicking is a fascinating recreational activity that is popular with travellers in nations with abundant natural resources, such as Australia, as well as visitors from other countries.
Fossicking is an exciting pastime that allows you to spend quality time with your family while also perhaps recovering some valuables. Except for New South Wales, all states require fossickers to get a license before operating in the field (for recreational purposes only). If you are planning on fossicking in State forests, a permit can be obtained online.
Here at Opals Down Under, we encountered fossickers at practically every mining site we visited in Australia last year, and they seemed to all love their outback treasure hunts. Year after year, many of them return to the same spot to try their luck. Licenses can be purchased at local visitor centres or online through fossickers.
2. Opal and Gem Fossicking in Australia
The enormous mineral deposits dispersed along the eastern margins of the Great Artesian Basin provide 95 per cent of global production. Boulder opal is only found in Queensland, and it can be found in the mining belt that runs from Quilpie in the southwest to Winton in the north.
Opalton, Quilpie, Winton and Yowah are just a few of the Opal-fossicking locations in Outback Queensland. Yowah is famous for these Yowah Nuts. Hand tools, picks, shovels, and sieves may be used in digging. For those with less time, 'specking' for colour on top of the ground (or noodling) is called 'emu bopping' by the locals.
Various gemstones can be located in Outback Queensland's northwestern region. Around Cloncurry, there are several general permission fossicking places where you can locate amethystine quartz, amethyst, alluvial gold, and Maltese crosses. Peridots can be discovered at Chudleigh Park north of Hughenden, while feldspar 'moonstone' can be discovered at Moonstone Hill.
The Gemfields in central Queensland — Rubyvale, Anakie, and Sapphire – are also popular places to go gem-hunting, with these small towns living up to their namesakes. There are zircons, sapphires, peridots, rubies, and emeralds.
Whereas many miners allow tourists to prospect or 'speck' over their dumps, keep in mind that trespassing on another's mining claim or lease is illegal, and permits are necessary on-site.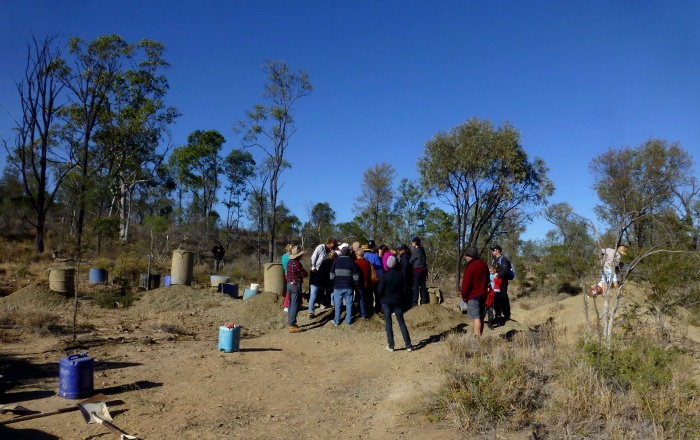 3. How to Do Gem Fossicking in Australia?
There are several public sites around Australia where you may perform gem fossicking directly from the ground. To successfully do this, you'll need to find out where your nearest public fossicking field is.
Contacting your local/community gem lapidary or gem club is one option. They will direct you to the locations where you may test it out. Maybe they offer a fossicking day when you may participate. All you need now is some spare time and patience! Always get authorisation before visiting an area where mining is permitted.
Because specific areas are designated as official fossicking areas under each state's Mineral Resources Development Act, no prospecting or mining licenses are provided to businesses or corporations in those areas.
Many corporate and government websites offer maps and comprehensive directions to help people find their goals. Local mineral and gem clubs also arrange events to allow fossickers to interact and sometimes trade things. When extraordinary stones are discovered and word spreads, it can encourage additional individuals to dig in specific areas.
4. What is needed for you to do Gem Fossicking?
You don't need much to start looking for gemstones; only a few basic items. Depending on whether this is a day excursion or a weeklong adventure, you may want to bring your camping gear!
Picks – A large pick is sometimes required to loosen the earth.
A little shovel – This is used to scoop out the earth from your hole, usually discarding the top layer.
Buckets — You'll need a couple of strong tin buckets to hold your soil. As you dig further, you'll see boulders and gravel; sapphires, being heavy, sink deep into the earth; sapphires are occasionally found amid the gravel and rocks at the bottom.
Sieves – Take not that a finer sieve, a medium sieve, and one with bigger pores are used.
A big tub of water – This will be used to clean the dirt off your stones.
An old bag — This can be used to drop your cleaned, sieved rock collection upside down.
When you get to the public fossicking locations, there may be a special shop/store where you may get some local information on how to discover a gemstone in the region. You might also be able to rent the equipment needed from one of the stores.
5. Various Types of Gem Fossicking
There are several alternative ways for fossicking; however, we will only cover the dry and wet sieve procedures for three types of stones: opals, topaz, and sapphires.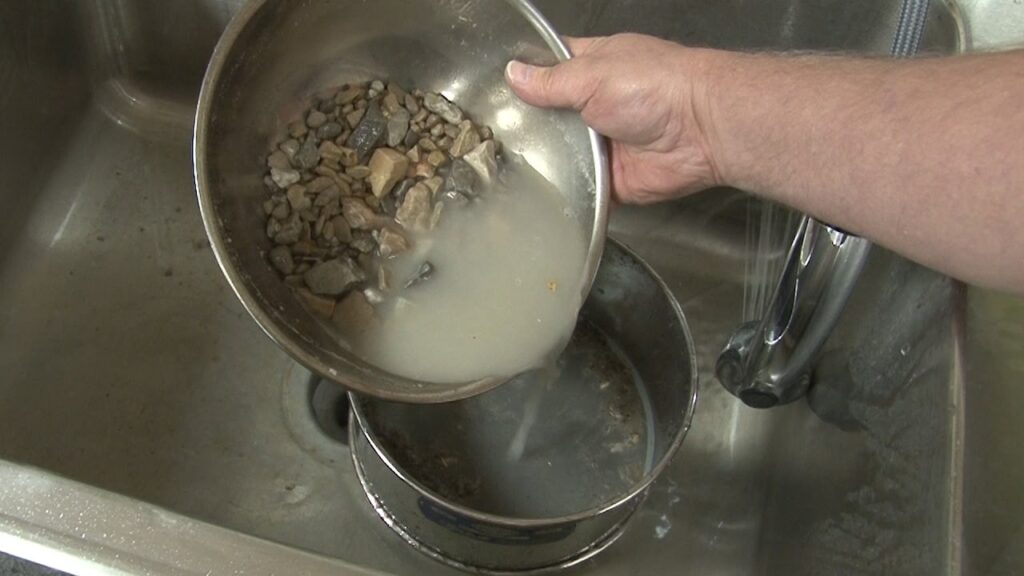 Using a Wet Sieve Method
The most typical approach for sorting through your find is to clean the stones with sieves and a bucket filled with water, sometimes called the wet sieve method. Once the stones are clear, carefully tip the sieve upside down onto a hessian bag or something similar on a table in direct sunshine.
Inspect the washed stones for colour starting in the centre of the pile. Examine the particles of each sieve thoroughly, remembering that most Opals will shine when wet.
Slowly rotate your sieves to 3 o'clock, 6 o'clock, and 9 o'clock while continuously jiggling them. Sapphire is a hefty stone that will gravitate to the centre of sieves.
Dry Sieving.
Topaz is extracted via dry sieving, which is a popular process. As storms and flooding wash the Topaz toward rivers and gravel deposits, explore dry riverbeds and gravel deposits.
To sift the stones using the dry sieve method, we utilise one big sieve. You can swiftly separate the pebbles and dust by gently shaking the sieve back and forth. Bigger pebbles and stones are eventually left behind.
Topaz can be recognised as transparent or frosty crystals or waterworn spherical stones of various sizes. The diameters can range from 2 – 3 cm. The most popular colours are transparent or extremely light blue.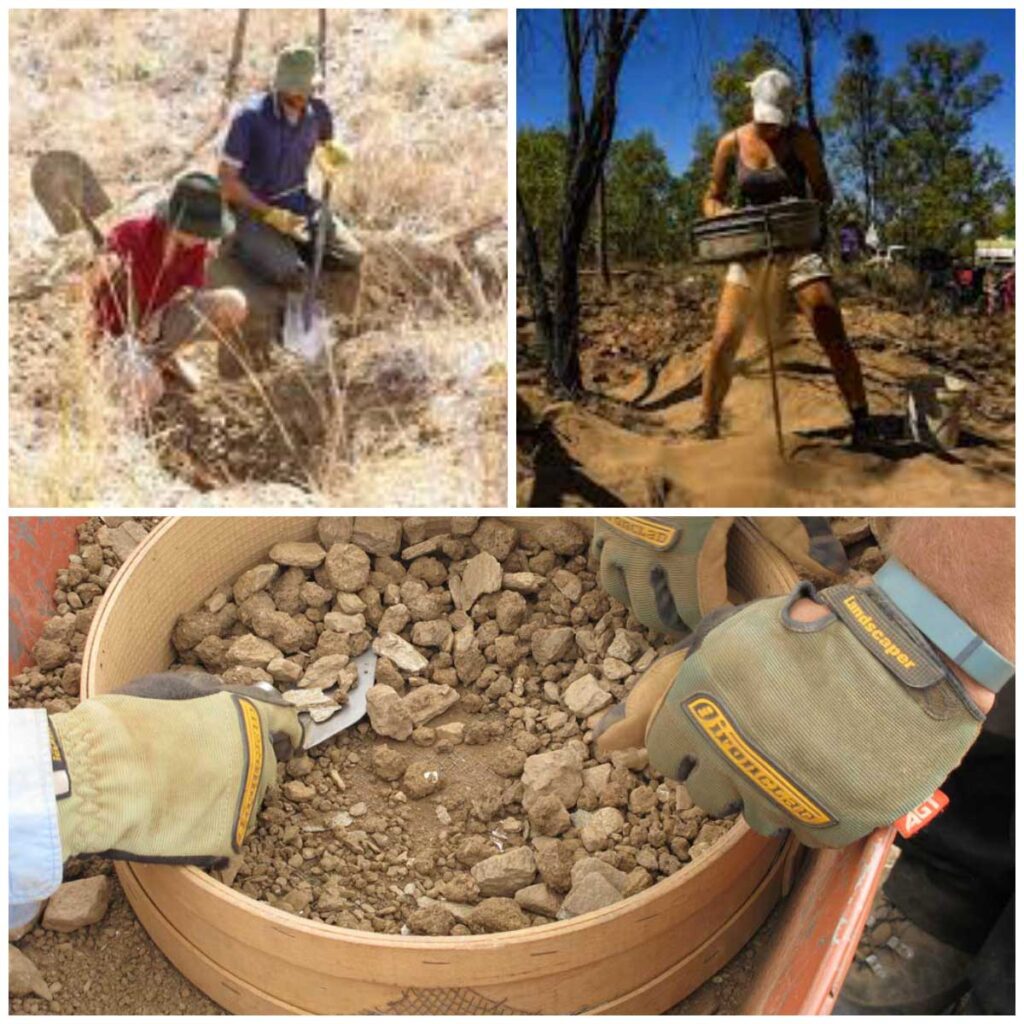 The Dry Sieving Method of Topaz Fossicking
Tools that you'll need:
One huge sieve
Selection
Spade
Bucket
We'll use the dry sieving method to look for the topaz gemstone with the aforesaid instruments.
Look for an old-stream bed that hasn't been disturbed, then dig into the bankside and gather the soil in the sieve.
Shake your sieve till tiny bits of dirt fall through the holes and the dust evaporates when you have enough dirt and it's not too heavy to pick up.
Keep an eye out for a shine, such as a shard of glass or anything else that glitters. If you're having trouble identifying a stone, simply put it in a jar and ask a fellow fossicker for help.
Instead of an ancient creek bed, if the Gem field is on a hillside, such as Queensland, Australia's Mount Surprise topaz fields, you'll have to scratch around and dig a little into the surface.
Keep an eye out for a glint that appears to be caused by the sun reflecting off a piece of glass. You should also try to move a few boulders and sift through the soil with your sieve.
The Wet Sieve Method of Sapphire Fossicking
Tools that you'll require:
Pick
A little shovel
Buckets
Set of sieves with various hole sizes classes
A huge tub filled with water
Used bag/sack
To begin, dig yourself a pail of dirt; you can either dig your own hole or start digging in virgin ground utilising an existing hole.
Put soil in your bucket. Toss any large rocks and anything else that won't be a sapphire to the side. Remember that sapphires may be waiting to be discovered beneath huge rocks.
Bring the buckets to your sieves beside the water tub. Place the contents of your bucket in a sieve and agitate it until all of the dirt particles fall out.
Then, while keeping your sieves flat and jiggling up and down, slowly turn them to 3 o'clock, 6 o'clock, and 9 o'clock. Sapphire is a hefty stone that will gravitate to the centre of sieves.
Bring the sieves over to your old sack and gently disassemble them when you think your rocks are clean enough.
Begin with the top one and flip it onto your sack in one continuous motion – this may take some practice! Normally, the sapphire is in the centre and now sits on top.
Gently pull the rocks aside with an old blunt knife. Keep your eyes peeled for something glistening; these may be sapphires!
6. Best Practices for Gem Fossicking
Here are five suggestions to help you find more gemstones in your gem fossicking activity.
Tip 1: The gemstone will be in the centre if you shake it uniformly, but this takes practice, so beginners may locate the sapphire anywhere in their mound of rock and dirt. If this is the case, keep seeking a glint throughout your pile of rocks.
Tip 2: It's preferable to do this in the sunlight, not on a cloudy day because you'll need the light to see the sapphire glitter.
Tip 3. Recommendation: Remember that sapphires are heavy, and they tend to sit on bedrock, so you may need to dig pretty deep to find the good stuff.
Tip 4. If there's an indentation in the bedrock (a very hard rock that sapphires can't penetrate), wipe it out; chances are a sapphire fell in there.
Tip 5. Remember, if you're not sure about your rock, put it in the jar and when you get back to your campsite, flash a torch beneath it or hold it up to the sun to see if you can see into it or through it.
7. The Gem Fossicking Economy
Many outback mining towns rely heavily on gemstones like opal and sapphire, and fossicking tourists play an equally essential role. We saw how sapphire fossicking boosts the economy in the towns of Inverell, New South Wales, and Rubyvale, central Queensland.
Some of the more successful companies here include hotels, restaurants, caravan parks, and even jewellery stores. Fossicking maps are available for free at local lodgings, and trips are easily organised.
Before going on any trips, potential fossickers should familiarise themselves with the necessary rules and regulations. State regulations may differ. Permits from landowners in areas not approved for fossicking may be difficult to come by.
The ownership of recovered sapphires can be a touchy subject, so it should be discussed ahead of time. The number of materials that fossickers can carry home is also limited. A fine may be imposed if the regulations are broken.
Many tourists visit Australia in caravans, which are similar to holiday trailers in the United States. There are usually several caravan parks in these mining towns, with some located near fossicking sites for convenient access. Tourists, notable fossickers, are also important to local jewellery shops.
Scratch Patch Gem Fossicking with Opals Down Under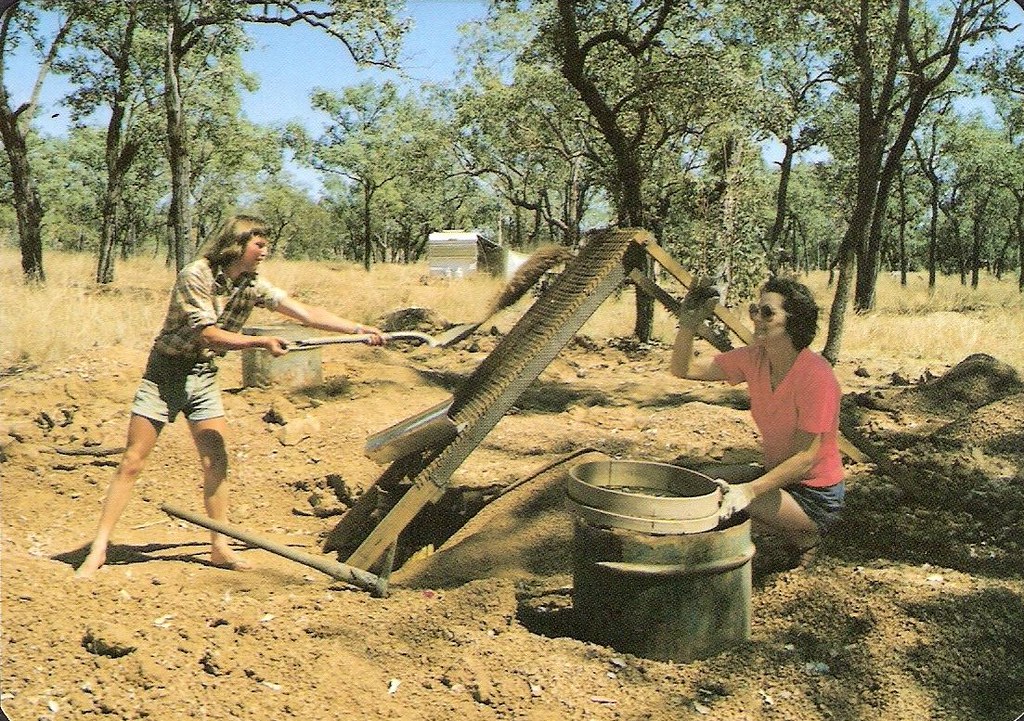 Can't make it out to any of the Outback fossicking towns? Opals Down Under has conveniently created a Gemstone Fossicking 'Scratch Patch' for our customers! Anyone can purchase a gem fossicking container (Small (45mm deep) – $10, Large (90mm deep) – $18) and collect as many tumbled gemstones as they can fit in their container, which they get to keep. You'll have heaps of fun and learn about gemstones at the same time – there is no time limit. It's great fun for kids and adults alike! We provide you with your own fossicking rake on entry.
Fossick through thousands of different semi-precious gemstones, where you can spend hours finding your very own collection, which of course includes opals. Excellent family activity from as little as $10.
Here are just a few of the different types of gemstones which can be found in the fossicking area;
Boulder Opal
Malachite
Agate
Tiger Iron
Rose Quartz
Tiger Eye
Hematite
Petrified Wood
Amethyst
Chrysoprase
Jasper
The Scratch Patch is open 7 Days a week. One area is partially covered (so is fine for drizzly days), while the other two areas are out in the open. The Scratch Patch opens at 9 am every day, and we close the pits at 4.30 pm (excluding Sundays where we close the pits at 4 pm)
If you are wishing to use our tables and chairs area for morning/ afternoon tea or lunch we require a booking.
Birthday parties can also be held at Opals Down Under.
Click HERE to book now!