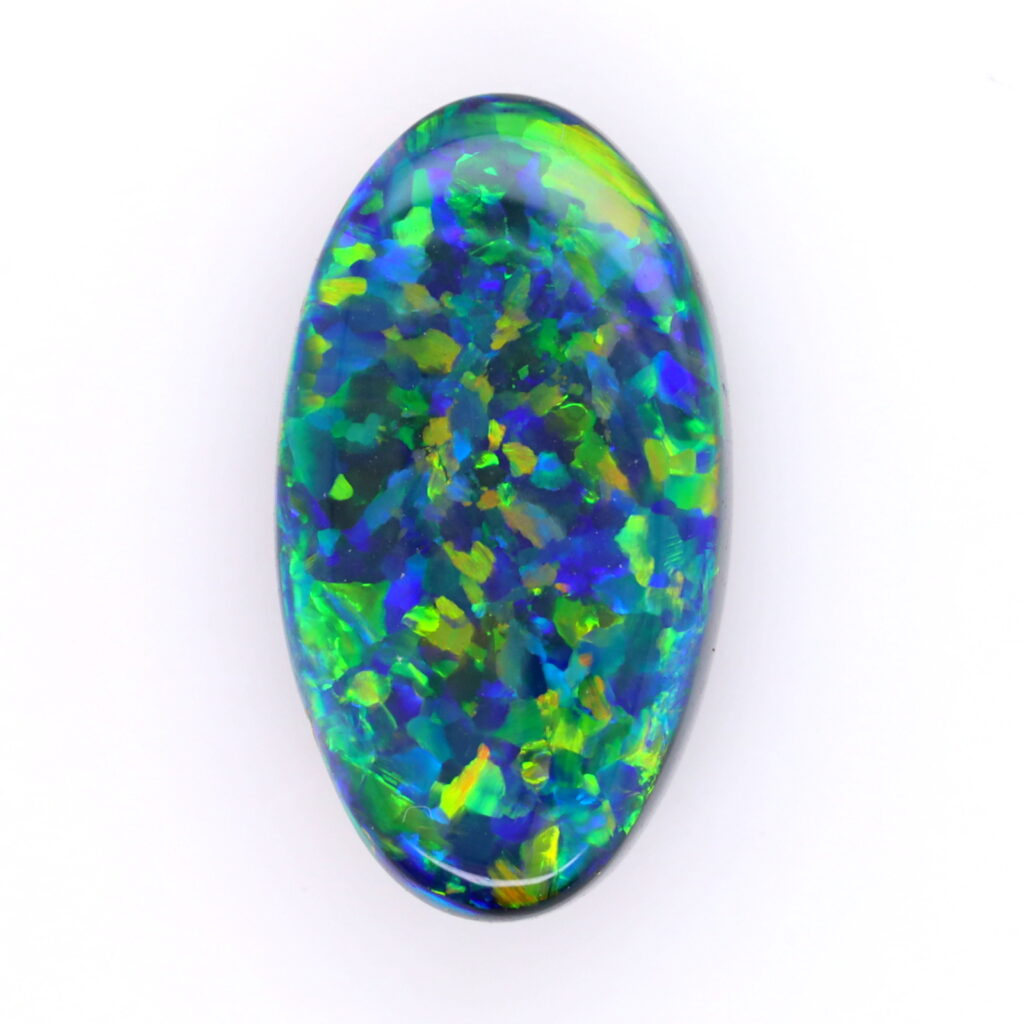 When it comes to jewellery, good things really do come in little packages as the smallest boxes can contain the most magnificent gifts. Black Opal jewellery should be one of those gifts, they are shiny, sparkling, unique and oh-so-wearable for any season.
Finding the perfect gift for your loved one, a family member, friend or sometimes even yourself can be a difficult task. It might be challenging to find the perfect jewellery gift when there are so many amazing possibilities.
Our Black Opal jewellery gift ideas can help you locate the perfect present for any occasion.
Perfect Black Opal Jewellery Gift Ideas for All Season
Choosing jewellery for someone may be a hit-or-miss situation, given that everyone has their own unique style and personality. The authentic beauty of Black Opals is very evident in the hue of the rainbow set on its surface against a jet black to dark grey.
Here are some of the Black Opal jewellery gift ideas for everyone in all seasons that you can choose from.
1. Black Opal Pendants
Primarily, Black Opal pendants and necklaces are the perfect addition to your wardrobe. A great gift for any occasion, this jewellery will be treasured as a keepsake for years to come.
You may give yourself the gift of beauty every day with an Australian Opal pendant. Opal pendants are a fantastic way to dress up any outfit, from conservative workwear to glitzy evening wear.
A hand-picked Opal pendant is an ideal accessory for any style you want to achieve. Necklaces are wonderful gifts for that special someone in your life. Begin by selecting the Opal that most appeals to you.
Opals are known to include all of the colours of the rainbow, and with our large collection, you'll be able to discover an Opal pendant that fits your look and character.
Choose Your Pendant from Our Black Opal Jewellery Gift Ideas
Notably, pendants are a great way to display the raw natural beauty of Australian Opal. After you've selected your Opal, browse through Opals Down Under's selection of Opal pendant styles to choose the one that most suits your personality.
Our designs range from casual to exquisite for the evening. With pendant settings in white gold, yellow gold, rose gold, sterling silver and sterling silver gold plate you'll be able to locate the ideal pendant for your own tastes.
With our custom jewellery builder, you may design the perfect Opal pendant you desire, ensuring that you get exactly what you want – The peace of mind of choosing the right opal for you.
Our master Opal cutter assures our exceptional quality, ensuring that your pendant choice is exactly what you desire. Browse through our extensive variety of pendants to discover the ideal piece of Opal jewellery to add to your collection.
2. Black Opal Necklaces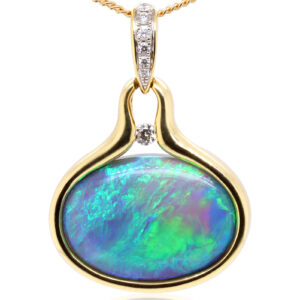 Wearing an Opal necklace creates a subtle and elegant appearance for everyday wear. It is a bold and brilliant look to add style to any ensemble as a stand-out, focus piece that has that 'wow' factor.
Opal necklaces allow you to change almost any outfit based on your selections. For instance, a modest black dress with a bright opal necklace would be appropriate for a Sunday brunch or a date.
Design Your Necklace from Our Black Opal Jewellery Gift Ideas
At Opals Down Under, we have a large collection of Opal necklaces to meet almost every fashion demand. Choose a beautiful Black Opal necklace to give to your daughter on her wedding day, or a green and blue Opal necklace to add glitz to your work outfits.
Consider a custom-made or premade Black Opal Necklace with raw beauty to compliment your natural attractiveness. Alternatively, add glitter and sensuality to a jewel-toned evening gown. Because each gemstone is unique, an Australian Opal necklace is an ideal pick for any appearance you're going for.
Find the ideal Opal necklace to suit your preferences and style. Since each item is carefully crafted and built to last a lifetime, you'll be able to pass down these necklaces for years because of our stunning designs and meticulous craftsmanship.
3. Black Opal Earrings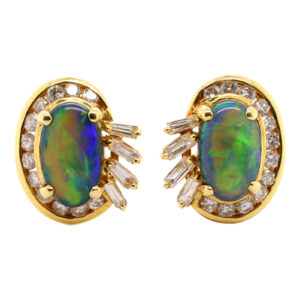 Black Opal Earrings are a must-have item in any woman's jewellery box. Diamonds and pearls are gorgeous, but only Australian Black Opal earrings are one-of-a-kind and full of personality. They may be worn with a little black dress for a night out on the town or with a brightly coloured business uniform to lend a touch of sophistication.
Earrings with Black Opals are always a classy option. Depending on the Opals you pick, you may get daring and dramatic appearances or exquisite and subtle ones. Black Opal is a rare gemstone with deep, mesmerising beauty.
Craft Your Earrings from Our Black Opal Jewellery Gift Ideas
Natural Black Opal earrings will make you stand out among the crowd. Diamonds and pearls are pretty, but you'll be sure to stand out with your custom-made rare Black Opal earrings.
When you customise and buy a pair of Black Opal earrings with Opals Down Under, you get to pick the specific pattern and style that will be used in your earrings. It means you'll get a set of earrings that are really one-of-a-kind. Choose a precious metal that matches your skin tone and preferences. Then select the Opals that best highlight your face, neck, and eyes.
Our Black Opal earrings, as usual, are guaranteed to be made with the best quality Australian Opal and to be precisely what you ordered. Shop our large assortment of stones and settings to find the ideal match for you.
4. Black Opal Engagement, Wedding Rings & Every Day Wear
Setting the environment and selecting how you'll ask the love of your life to become your partner for life is just as crucial as choosing the right engagement ring. Because your life together will begin the minute you put on the ring, there is a lot of pressure to do it right.
Black Opals offer a rich, complex, and dynamic beauty that cannot be matched by any other gemstone when considering engagement ring selections. Their colour play and natural dynamic structure make them a timeless and one-of-a-kind precious gemstone. So, they're quickly becoming a popular engagement ring option.
Most black opal engagement rings come in such a broad range of styles, shapes, and colour palettes that any couple will discover the right match. Many traditional gemstones have a vibrant colour, although it is usually confined to variations on a single hue.
Engagement rings should be distinct in appearance while still being able to mix and match any outfit. You want something that blends well with your aesthetic and will last for years. At the same time, you need something that can be worn alone but also provides a shared aesthetic when coupled with your partner's wedding ring or set.
Black Opals are not just limited to engagement rings. Here at Opals Down Under, we have handcrafted many Black Opal everyday wear rings, or for special occasion wear. Choose your Opal, and then choose your setting; it's as simple as that!
Handpick Your Engagement & Wedding Ring from Our Black Opal Jewellery Gift Ideas
Here at Opals Down Under, we made the engagement ring selection process easier than ever. Our Black Opal engagement rings are absolutely stunning, and their allure extends beyond the surface.
Luckily, Black Opal engagement rings give you the finest of everything. They're a new and exciting take on engagement rings as it gives a dynamic basis on which to create a lovely wedding set while maintaining the classic and timeless beauty that a ring designed to last a lifetime demands.
We combine magnificent, ethically sourced Opal with sustainable and environment-friendly materials to produce brilliantly designed and professionally crafted items.
Simply put, our Black Opal engagement rings are the ideal way to signify the eternal love, optimism for the future, and vibrant partnership that your union will create.
Buying an engagement and a complementing wedding ring is often a couple's first venture into high-end jewellery. And besides, these are the rings you'll wear for the rest of your lives together. So, you need something classic and timeless, something that will complement your own unique style now and in the future.
To help begin the process of designing your perfect custom engagement ring, check out our top tips here – https://www.opalsdownunder.com.au/learn/opal-engagement-rings-top-tips/
5. Black Opal Bracelet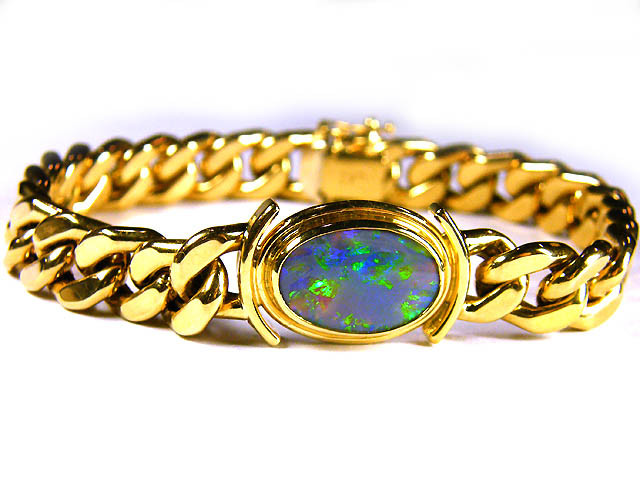 A great way to add colour and character to any look is with a Black Opal Bracelet. Black Opals are vivid and striking which creates a daring and one-of-a-kind style. Choose Black Opals set in white gold for a timeless bracelet that will always be in fashion.
A classic present that every woman would love to have in her jewellery collection is an Australian Black Opal bracelet. Because no two Opals are similar, each piece is a one-of-a-kind work of art that will add sparkle to your life.
Black Opals embedded in gold are a great option for more distinctive and daring bracelets. To compliment a glittering diamond ring, wear a Black Opal bracelet on your left wrist. The contrast will be spectacular, and when both stones are put together, they will shine even brighter.
They look great with jewel-toned evening dresses or gently coloured business outfits. It's also appropriate for a wedding or a night out on the town. Black Opals are popular among ladies all over the world because of their dark tone hue and excellent sparkle.
Select a Bracelet from Our Black Opal Jewellery Gift Ideas
Most Black Opal bracelets from Opals Down Under are custom made. Choose from a broad range of designs, from daily & simple or exquisite and blingy for special events.
Sterling Silver and White Gold are ideal metals for highlighting the vibrant hues of an Australian Black Opal bracelet. Such precious metals create a lovely setting for your Opals while also making it simple to match your bracelet with most outfits. Choose between having multiple Black Opals in your bracelet, or one stone in the middle as the focus piece. Stand out from among the crowd. Simply select the shape and colour of your preferred Opals, and then your preferred style of setting.
Whatever your own style, your one-of-a-kind piece of jewellery will make a statement. Check out our selection of beautifully cut Opals and then design a bracelet that reflects your vision.
6. Black Opal Cufflinks
Something for the men, Opal cufflinks are a fantastic gift idea. Whether it be for the man in your life to wear to work every day to add a little flair to his suit, or for a special occasion. Opals Down Under stocks a range of ready-made cufflinks in White Gold, Sterling Silver and Sterling Silver Gold Plate, featuring a range of different Opals & colours. Custom made Opal cufflinks are also an option if you have a specific design in mind or happen to fall in love with a pair of stones.
7. Unset Solid Opal
No other gemstone on the planet is as unusual or captivating as an Australian Opal. The term "Unset Opals" refers to Opals that have not yet been set into jewellery. In other words, they've been cut, polished, and are ready to become a part of a stunning piece.
Black Opals are appropriate for earrings, pendants, necklaces, engagement and dress rings that remain valuable for defining statement jewellery.
Get Your Unset Gemstone from Our Black Opal Jewellery Gift Ideas
Opals Down Under has been enamoured with Black Opals for some years and is constantly astounded by how this unusual gemstone exhibits previously unseen characteristics each time we touch one in our hands. Our passion for Opals inspires us to create one-of-a-kind beautiful jewellery.
We carefully choose only the best, 100 per cent natural Opals from various sites around Australia and deliver them to you. Expect fascinating, unique galaxy-like patterns in many of these Opals, which have been sourced, cut and polished here on-site by Scott, our Director, to absolute perfection.
In our collection, you will discover Opals of every sort, from fiery and lightning to soothing rainbow tints and the delicate glitter of the vast oceans.
Custom-Made Jewellery: The Best Choice for Black Opal Jewellery Gift Ideas
Looking for the perfect setting to suit your perfect Black Opal? Our expert award-winning jewellers specialise in crafting quality Opal settings. Our customised Opal jewellery is modern, elegant, sophisticated and designed around your needs. All you need is a little bit of imagination and the right expertise to make the magic happen.
Whether it's a special gift, an engagement ring, an unusual stone for your gem collection, or a setting for the Opal you've fallen in love with, we've got the experience and flair to make something great. If you've got an idea for a custom-made Opal ring, pendant, earrings (anything, really) then let us know – we'll do our best to make your dream become a reality.
Please don't hesitate to contact us for personal assistance and guidance in having your Opal custom set.