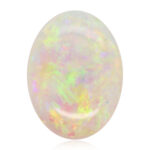 The home of Australian White & Crystal Opal
South Australia, by weight would produce most of Australia's opal. Fields such Coober Pedy, Andamooka, Mintabie, and Lambina produce stunning White and Crystal Opals.
Welcome to the serene world of opal mining in South Australia, where a relaxed ambiance blends seamlessly with captivating opal discoveries. Picture this: South Australia stands as a distinguished opal producer, with its opal mining fields – Coober Pedy, Andamooka, Mintabie (most mining was ceased in Mintabie in 2019 due to government regulations, although there is still plenty of old material around), and Lambina – collectively contributing to the breathtaking array of Australian White and Crystal Opals.
Unveiling Coober Pedy's Opal Legacy
Coober Pedy, the global epicentre of white opal production, beckons from within the heart of South Australia's outback, nestled in the Stuart Range, a mere 750 km north of Adelaide. Here, a distinctive way of life prevails, as locals gravitate towards subterranean dwellings for respite from the intense summer heat and comforting warmth during winter's chill. The township emerges amidst rugged, arid terrain, punctuating the landscape of the Stuart Ranges. Vegetation remains scarce, a testament to the region's modest rainfall, costly water resources, and soil with limited fertility.
Delving into history, the serendipitous discovery of opal in 1915 by a 14-year-old explorer accompanied his father's gold prospecting expedition. This auspicious event heralded the establishment of the iconic Big Flat opal field by 1916. The aftermath of World War I ushered in a surge of miners, resulting in a remarkable escalation in opal production. The unique subterranean lifestyle embraced by returning servicemen conferred the field with its moniker, derived from the Aboriginal term 'okupa piti,' symbolising the 'white man's burrow.'
Opal deposits, ensconced within the weathered Bulldog Shale spanning shades of white to mauve from the Cretaceous era, are enveloped by the porous host rock, fondly termed 'sandstone.' This captivating gemstone manifests as horizontal 'levels' or steep 'verticals,' plunging as deep as 25 metres beneath the earth's surface. The distribution of opal, characterised by its unpredictable nature, defies continuity across claims. Notably, Coober Pedy stands as the globe's foremost purveyor of precious Australian opals (roughly 80%).
Andamooka's Opal Odyssey
Turning our attention to Andamooka, this opal field made its debut in 1930, courtesy of the discovery by two boundary riders from Andamooka Station. Challenged by climatic adversities and the upheavals of the 1940s, the field's initial production faced delays. However, the year 1962 witnessed an impressive resurgence, as around 800 miners converged on this opal-rich expanse. Situated approximately 520 km north of Adelaide, the miners of Andamooka ply their trade across an expansive 52-square-kilometre territory atop the Arcoona plateau. Mining endeavours encompass a diverse range of methods, including shafts, expansive bore-holes, open-cut excavations, and intricate tunnelling. The opal troves, composed of opalized shells, stones, and even remnants of ancient creatures, persist across no fewer than 24 distinct fields. Andamooka's climate paints a semi-desert portrait, characterised by inviting weather spanning March through November, marked by warm days yielding to crisp nights. As summer approaches between December and February, temperatures ascend, occasionally peaking at 35°C in the shade, occasionally accompanied by the swirl of dust storms. Rainfall remains scant, with an annual average of approximately 175 mm.
The Allure of Mintabie Opal Fields
Mintabie, a newcomer to the opal narrative, traces its origins to the 1920s and the discovery by a well sinker named Larry O'Toole. However, it wasn't until 1978 that the allure of opal fever took hold, driven by noteworthy opal discoveries. Situated approximately 180 km south of the Northern Territory border and some 300 km north of Coober Pedy, Mintabie's operational canvas was initially constrained by an inhospitable climate and the challenge of scarce water resources until the mid-1970s. The infusion of heavy machinery and explosives in 1976 marked a transformative juncture. Of particular interest is the enactment of the Pitjantjatjara Land Rights Act in 1981, facilitating Mintabie's assimilation into a substantial expanse of freehold Aboriginal land. This legislative stride has indelibly shaped Mintabie's modus operandi. Notably, historical accounts suggest that during World War I, Indigenous individuals may have sold black opal, potentially sourced from Mintabie, to Coober Pedy, lying approximately 350 km to the northwest. As of 1988, Mintabie was home to a population of around 1,500 inhabitants, though recent years have witnessed a decline, attributed to dwindling production. Control of Mintabie was handed over in 2019 to the traditional owners of the land (Anangu Pitjantjatjara Yankunytjatjara (APY)). There is now limited mining in the region. Mintabies climatic spectrum spans from sub-zero chill to sweltering highs.
Lambina's Opulent Legacy
Lambina's opal narrative unfolds against the backdrop of the Great Depression of the 1930s, with suggestions that opal was unearthed during these tumultuous times. A minor rush in the late 1980s, triggered by discoveries at the Seven Waterholes diggings, ushered in renewed vigour. Mining activity experienced fits and starts until the mid-1990s. The revelation of high-quality opal in 1996 ignited a fresh wave of prospecting claims. Alas, the Wik native title decision temporarily impeded the trajectory of new mining endeavours. By December 1997, miners learned of an imminent native title claim over the entire Mintabie region. Subsequent dialogues between miners and native title holders paved the way for the continuity of mining operations. Lambina's current population hovers around 300 individuals, contributing significantly to South Australia's opal landscape.
Adorning South Australia's Opal Kaleidoscope
As you journey through the realm of opals from South Australia, a panorama of splendour awaits. Explore our Australian opal catalogue, where we present an exquisite selection of opals emanating from this distinguished region.
Check out our Opal collection online or visit Opals Down Under at our Sunshine Coast location.
Here's a sample of the latest opals from South Australia currently available in our Australian opal catalogue:
Sources :
"Submission to the Inquiry into Resources Exploration Impediments", Trevor Peek, Economic Development Officer, Coober Pedy.