Here are 7 Valentine's Day Jewellery Gift Ideas for your special someone this 2022.
Every year, many countries & people worldwide celebrate 14th Feb as a day of love, friendship, and admiration. On this day, people give their spouse, partner, or lover– cards, letters, flowers, and even Jewellery!
And how can we not be a part of such a sacred day?
At Opals Down Under, we love to present Valentine's Day Jewellery Gift Ideas and be a memorable part of people's great love stories on this day.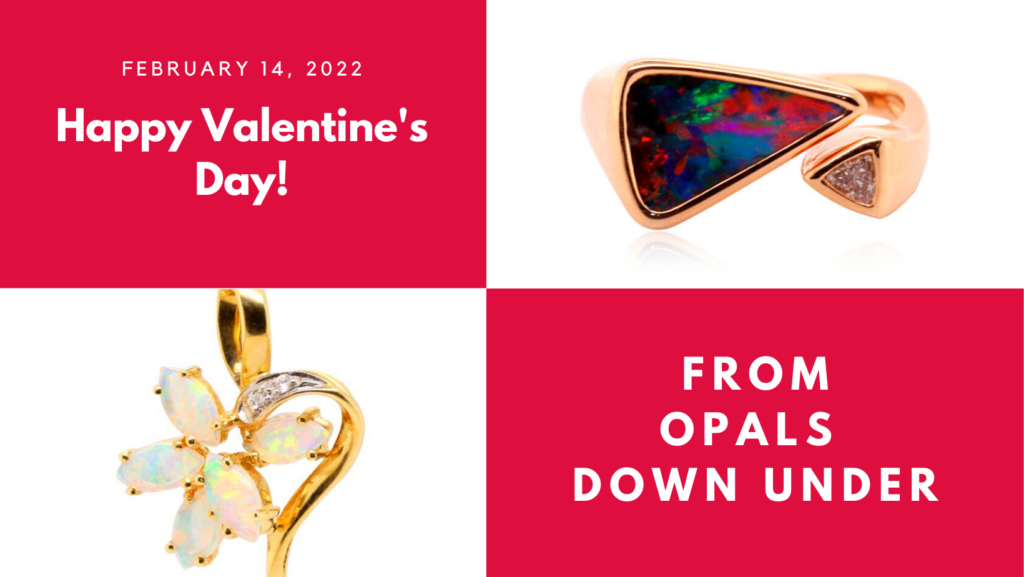 We know that finding Valentine gifts for your special someone can be bemusing. We also know that your Valentine deserves the perfect and right kind of Valentine gift. It could either be beautiful Black Opal rings, gold-plated heart pendants, customized Opal-mounted rings, minimalist circle stud earrings!
Whatever it is, we at Opals Down Under are adamant about making it exactly the way you imagine.
Make 2022 Memorable with Beautiful Valentine's Day Jewellery Gift Ideas

This special day has a very significant history and origin of its own.
February is historically chosen to be the month of love and romance and a very special month to celebrate the day of love called Valentine's Day. This day, you simply can't overlook the deluge of love-drenched feelings, the slushy outbreak of "being in love" and the pervasion of the red colour all around when the calendar turns to February.
Furthermore, this is a day of love, celebrating the most beautiful feeling. When it comes to expressing love to your loved one on this special day, gifts are an inevitable part of it. No matter whether you turn your long-time crush into love or just want to make your loved one feel extremely delighted in the best way, sending proper Valentine's Day gifts for him or she could be the best way to touch the heart of your loved ones.
Our Valentine's Day Inspired Jewelleries

If you have been planning to present a very heart touching and meaningful Valentine jewellery gift to your girlfriend, boyfriend, best friend, parents, or any special someone, your search ends here! You can choose from our extensive range of stunning Valentine's Day jewellery.
The best part of sending Valentine's Day special jewellery is that they carry a strong emotion of love and commitment for the most special one of your life. You should know about the design of the ring, pendant, or earrings that she likes.
Always remember one thing: jewellery with a unique design will not only impress her but at the same time, it will reflect their personality also. When it comes to buying the most unique and beautiful design of Valentine's Day jewellery for your loved one, Opals Down Under could be the best online store where you can make the purchase.
Why Choose Opals Down Under for Your Valentine's Day Jewellery Gift Ideas?

On Valentine's Day, we express love and gratitude to the people in our lives. We gift our family, friends and lover's tokens of our affection. While it's always great to receive cards, chocolate, plushies and holiday socks, it's a very special treat to get something sparkly or made with gold.
Though we never need a reason to spoil the people we love, Valentine's Day is one of those holidays that encourages us to celebrate and cherish our loved ones, whether that's our partner, our parents or our friends. Though sweet treats like heart-shaped candy boxes are traditionally the most popular Valentine's Day gift, jewellery isn't far behind.
The Valentine's Day inspired jewellery collection designed at Opals Down Under for 2022 comprises premium jewellery articles, including solid Opal pendants, heart pendants, rings, earrings, and much more. Besides, when it comes to design and craftsmanship, we always stand at the forefront.
The years of experience, hand-picked solid Opals, unique coloured gemstones, and a strong desire to offer our beloved clients the best have always helped us produce some of the most exquisite Opal jewellery collections. The same convention has also enabled us to be a leader across the Australian jewellery market.
Our Valentine's Day Jewellery Gift Ideas 2022 collection is focused explicitly on both trendy and classic Opal jewellery pieces. Sleek lines, clean cuts, and classic shapes are mixed and matched to give this jewellery collection a contemporary yet elegant vibe.
Valentine's Day Jewellery Gift Ideas

Valentine's day is an occasion to make your muse feel extra special. To help you narrow down your gift search, we've gathered our Valentine's Day Jewellery Gift Ideas for every shopper and budget this 2022.
We have enlisted seven exquisite products from Opals Down Under collections that we like the most, and we are confident that these products will also make your sweetheart fall for you again. Let's take a look at each of these jewellery products.
Valentine's Day jewellery doesn't have to be meaningful, sometimes a girl just wants a pair of Saint Laurent earrings, and what of it? So, Valentine's Day might just be a good excuse to gift her the jewellery piece she's been coveting for ages.
These super cute, heart-shaped earrings with heart-shaped fiery Crystal Opals is one of our latest arrivals. The Solid Crystal Opal is mounted on 18K Yellow Gold metal with a translucent effect.
Each earring features a single heart-shaped solid opal that shines bright in your ears, resulting in a truly romantic pair. By wearing your Opal, you will bring loyalty, faithfulness, and spontaneity. Also, they are known for strengthening memory as it encourages an interest in arts.
If your Valentine prefers subtle jewellery styles, find a pair that is heart-shaped, short, and a solid metal such as yellow gold. For those who like their jewellery to pop, choose designs that feature sparkle, length, and vibrant colours.
Our gorgeous heart pendants are back! Opal Down Under's handcrafted jewellery pendant features a bright Semi Black Opal and a Blue Topaz.
Sourced from Lightning Ridge, this piece highlights opaque transparency with a length of 5.8mm. Most users claim that the solid Semi-Black Opal stone helps to release anger and boost self-worth, aiding in accessing and expressing one's true self.
Semi-black Opal, also known as Dark Opal or Grey Opal refers to Opal that has a darker body tone than White Opal, yet are not quite dark enough to be classified as Black Opal. They are found mostly at Lightning Ridge, however, they have also been found at Mintabie in South Australia.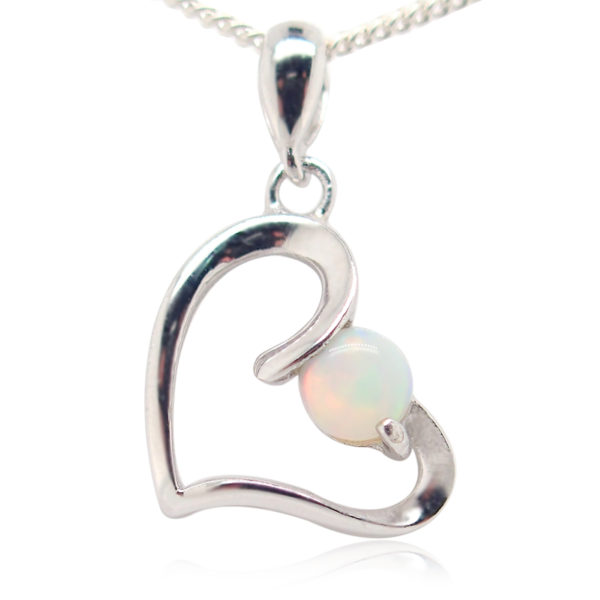 Opals Down Under's Sterling silver heart-shaped pendant suits perfectly for the love of your life. It features a White Opal that women love especially for formal occasions.
Featuring no accent stones, this pendant really allows for the Opal to be the sole focus.
With its subdued brightness, this pendant has a floral pattern that intensifies emotions and releases inhibitions. Also available in Gold Plate, Sterling Silver.
Women also love flowers to be given during Valentine's Day. So, why not combine a combination of flowers and jewellery in a necklace this season of love!
This lovely flower style pendant features a small cluster of fiery Crystal Opals and diamond accents. Set in 18K Yellow Gold. Since Opal is said to be an emotional stone that reflects the mood of each person, it encourages both freedom and independence of an empowered woman.
Jewellery is the best friend of women and gifting a unique design of jewellery can make any woman feel really happy and special. Of course, sometimes you just want to shout your feelings from the rooftops, so those looking for a maximalist statement will find a few of those here too.
If you are looking for exceptional designs of Valentine's day special rings for your beloved girlfriend, Opals Down Under could be the best destination for you.
With its classic, elegant, & stylish setting, Opal Down Under's Solid Boulder Opal Ring symbolizes the colour of Valentine's Day. This piece has bright Boulder Opal with a diamond accent and is set in 14K Rose Gold.
Mined in Winton, Queensland. Chemically speaking, this solid Opal is a noncrystalline form of the mineral silica that is composed of silicon dioxide combined with water. It has then hardened beneath the surface over thousands of years.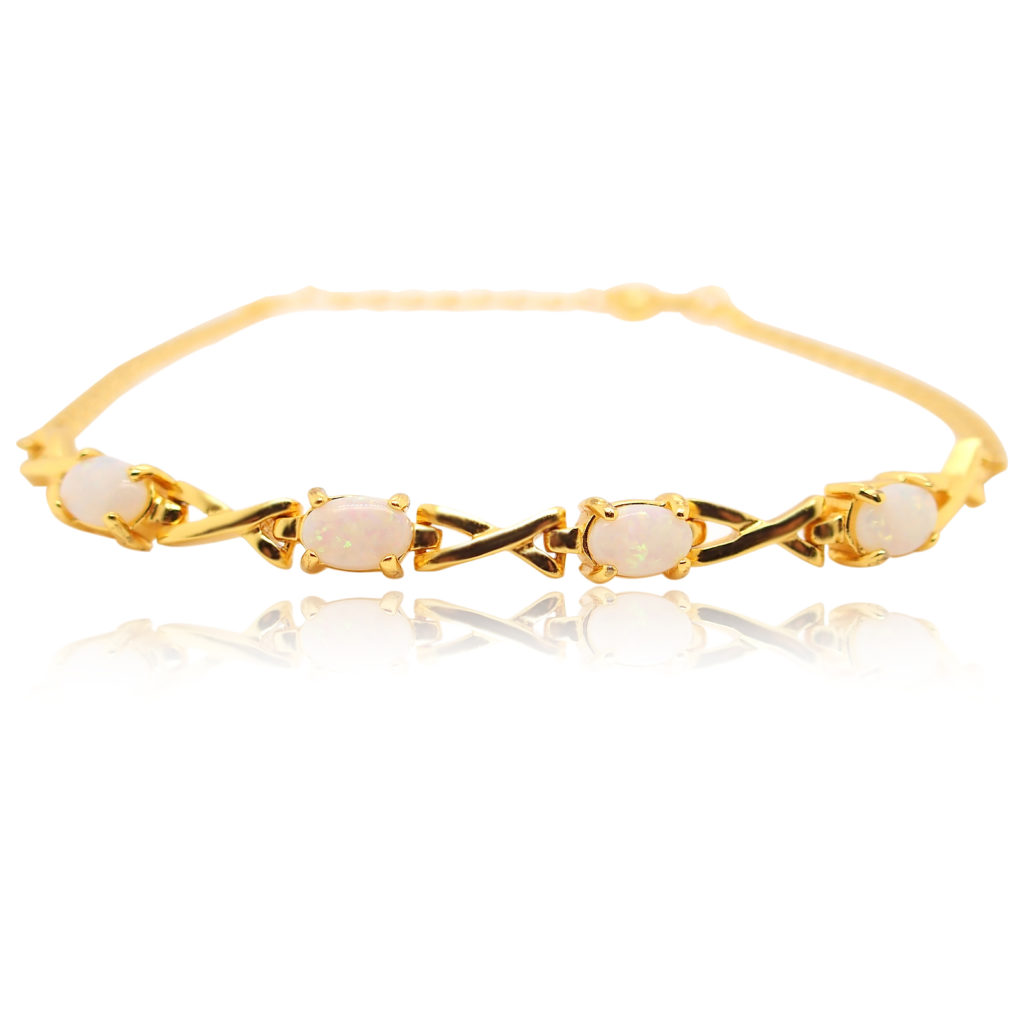 Express your love and feelings on this Valentine's Day, to make it extra special and romantic with Valentine's Day gift. Each of our jewellery offered in this online store comes with an exceptional design so that it can easily catch the attention of anyone, especially our bracelet selections.
This popular style of gold-plated sterling silver bracelet is perfected with White Opals. The jewellery has an extender chain, with a maximum length/circumference of 200mm and a maximum diameter of 68mm.
Suitable for Valentine's Day, this bracelet is made with floral patterns to express femininity and adoration. As we have multiple of these in stock, colours/patterns will vary upon availability.
If you are looking to invest in something that can be worn daily, there are plenty of jewellery gifts out there designed to say what your words couldn't quite put across. Whether that's a symbol of your love and endearment, there's something in this Valentine's Day Jewellery Gift Ideas for everyone.
Our rose gold-plated ladies watch is made with a 28mm face, and mesh band. This Alexander Dauvin Opal Face Watch has a two-year manufacturer's warranty and is water-resistant for up to 3 meters.
Since opals are one the most delicate gemstones commonly worn and require special care, they can have an opaque or glassy appearance with a waxy lustre. The particular colours seen in this watch's opal design depend on the angle of viewing with the play of colour under the sun or any source of light.
Send Valentine Gifts for Her from our Valentine's Day Jewellery Gift Ideas by Opals Down Under

So while we've sorted out your Valentine's Day Jewellery Gift Ideas, all you're left wondering about is the budget. But don't worry about that either! 'Cause with striking Valentine's Day jewellery offers on solid Opal stones, gold, diamond and sterling silver, you wouldn't burn a hole in your pocket. We offer various coupon codes and payment options exclusively for you to make it an easy-going process for you.
Opals Down Under has one of the finest selections of opals you'll see anywhere in the world. We specialise in all types of Opal, including White Opal, Crystal Opal, Boulder Opal, and the world-famous Black Opal. All our products are backed with great service. All to make sure your purchase is a fantastic experience.